Meetings with Parents & Carers
We consider communication with our parents and carers as key to the success of every child's journey here. We are always happy to speak to parents and carers and honour an Open-Door Policy; making timely and personalised communication a priority.
Formal progress meetings with parents take place take place twice a year in the Autumn term and the Spring Term
Preschool parents receive formal reports at the end of each year in preparation for their transition to school. Transition Reports are completed for children in all other rooms and are given to your child's new Room Leader
Stay and Play sessions are arranged throughout the year. This is an excellent opportunity to share your child's learning and we would urge you to come and share your child's nursery experience
Daily communication is encouraged during handovers and meeting requests will be accommodated throughout the year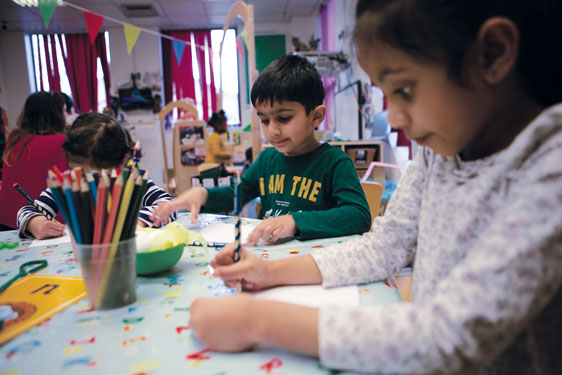 How to help with your Child's Development 
Know the Curriculum Areas –
In line with the EYFS we've divided our curriculum into 3 Prime Areas:
Personal, Social
and Emotional Development
(PSED)

Physical
Development
(PD)

Communication
and Language
(C&L)
And the 4 Specific Areas:

Literacy
(LIT)

Mathematics
(MA)

Expressive Arts
and Design
(EAD)

Understanding
the World
(UW)
Our emphasis is on ensuring your child is 'School Ready' in preparation for their reception year. We work closely with Langley Hall which is one of the nursery's main feeder schools to organise consistent practice especially for behaviour and social emotional development. We share staff, training and resources across both establishments and also share good practices.
We encourage children to be independent and select and develop activities for themselves. We encourage and develop learning by providing planned purposeful play and by giving careful consideration to the balance between adult led and child-initiated activities.
It's important to us that play resources and activities arouse a child's curiosity to learn and therefore the way in which Wellingtons for Langley Hall practitioners organise resources is considered carefully. For under 3's the learning environment creates opportunities for children to develop basic and complex skills and to practice them through a variety of activities. The play environment is very much child led and children are encouraged to select toys and activities freely.
All children are encouraged to respect the learning environment and to keep it safe, clean and tidy. Children help to put toys away after play sessions and before lunch and are encouraged to feel a part of the decision making process regarding their play.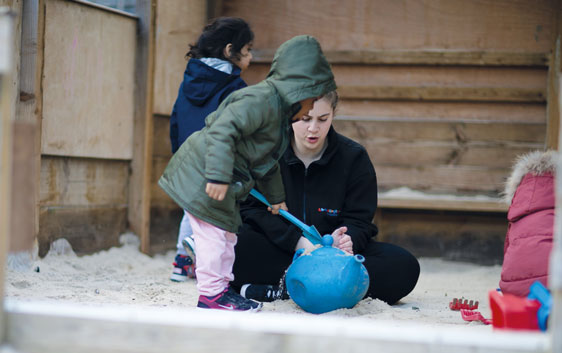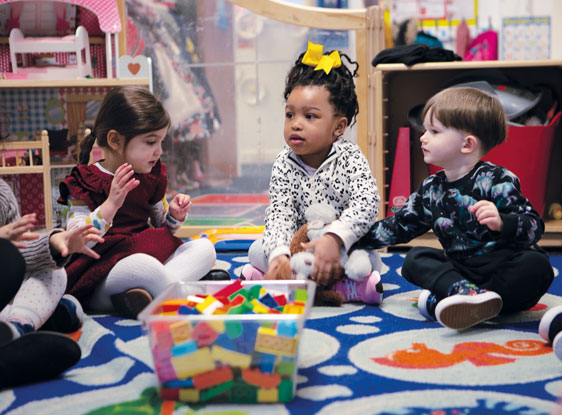 The play rooms do not naturally lead to the outside environment and therefore free flow is not possible. Therefore we have set up an area by the outdoor environment where children can draw and create with indoor and outdoor resources freely.
So for example children may bring in some leaves and sticks and use them to make a collage. The outdoor environment has been re modelled to create a village of houses and roadways for role play, drama and exploration. There is also a large outdoor sandpit and water feature.
The prime and core areas of learning are used to shape activities and provide the basis for helping children to achieve the early learning goals. Assessment for learning is simple and on going and all staff use observations and focused tasks to inform them of a child's next steps.
All staff have access to the development matters document and the Sally Featherstone activity ideas to ensure that they can plan and guide activities appropriate to the age group of the child and their abilities. Using the enabling environments section of development matters staff will be guided in what is appropriate for children to experience and achieve.
 Our four overarching principles are:

Every child is unique

Children learn to be strong and independent through positive relationships

Children learn and develop well in enabling environments

Children learn & develop in different ways & at different rates
All staff are aware of the early learning goals for each area of the curriculum and are mindful of these when planning activities. Assessing children's next steps is a vital role that practitioners play.
Each child's key carer should take overall responsibility for this but will often draw upon the observations and advice of their colleagues when making judgements on levels of development and next steps.
Staff will take careful note of children's skills during play activities and record what they see on our online platform Tapestry.
This is often carried out informally but on a regular basis staff will formally note a child's progress on their development matters checklist and in their learning journals.
Formal and informal observations will inform practitioners how the child is developing and what new skills they have acquired. Staff will be required to show that they have a good understanding of child development and can accurately assess a child's current level of development. Staff will then use this knowledge to plan next step activities that will challenge children to develop their skills further.
Guidance to the early years foundation stage
Please see below to download an excellent guide for parents and carers. Please take a look so that you can understand what we are doing for your child here at Wellingtons nursery – and how you can best support your child's learning and progression at home: